What are the safety standard for the trampoline parks?
This internal use standard specifies the general safety requirement for the product manufactured by Liben Group.
The following documents, in whole or in part, are normatively referenced in this document and are indispensable for its application. For dated references, only the edition cited applies. For undated references, the latest edition of the referenced document (including any amendments) applies.
EN 1176-1:2017, Playground equipment and surfacing - Part 1: General safety requirements and test methods
EN 1176-10:2008, Playground equipment and surfacing - Part 10: Additional specific safety requirements and test methods for fully enclosed play equipment
ASTM F1487-17, Standard Consumer Safety Performance Specification for Playground Equipment for Public Use
ASTM F1918-12(2017), Standard Safety Performance Specification for Soft Contained Play Equipment T/CAAPA 0001-2016,
2PfG 2524:2015-02, General safety requirements and test methods as well as requirements for operation
for stationary trampoline courts
ASTM F2970-17, Standard Practice for Design, Manufacture, Installation, Operation, Maintenance, Inspection and Major Modification of Trampoline Courts
EN 12572-1:2007, Artificial climbing structures - Part 1: Safety requirements and test methods for ACS with protection points
EN 12572-3:2008, Artificial climbing structures - Part 3: Safety requirements and test methods for climbing holds
EN 15567-1:2007, Sports and recreational facilities - Ropes courses - Part 1: Construction and safety requirements
EN 14960:2013, Inflatable play equipment - Safety requirements and test methods EN 71-1:2014, Safety of toys - Part 1: Mechanical and physical properties
EN 1177:2008, Impact attenuating playground surfacing - Determination of critical fall height
ASTM F1292-17, Standard Specification for Impact Attenuation of Surfacing Materials Within the Use Zone of Playground Equipment
Safety and construction standards and guidelines are something that we Liben Group take extremely seriously. Our physical education, gymnastics and trampolining equipment is in use in schools, gymnastics clubs, trampolining clubs and leisure centres throughout the China and our reputation rests on our manuacture of equipment that is safe to use and of commercial robust quality suitable for insitutional use.
Wherever ther is a relevant British Standard, European Standard ASTM standard or standard of the FIG (Fédération International de Gymnastique) then we compy with it. Our entire procurement, manufacturing and sales process is audited to ISO9001:2008 standard.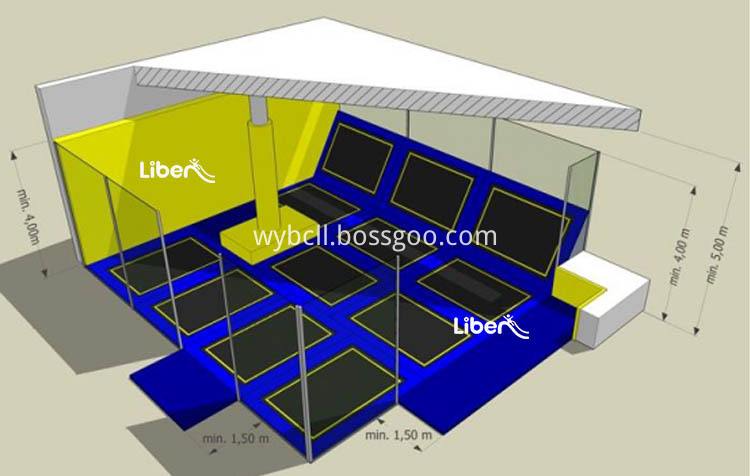 There are currently no EU or ASTM Standards relevant to the design and construction of trampoline parks. There is however a USA standard issued by ASTM International. Known until 2001 as the American Society for Testing and Materials (ASTM), is an international standards organization that develops and publishes voluntary consensus technical standards for a wide range of materials, products, systems, and services.
We manufacture our trampoline park system in compliance to all construction standards stated in that guidance and in virtually all cases exceed the minimum requirement. In the absence of any other standard we believe it is vital that you ensure your park complies with this standard - please check that your manufacturer is aware of this standard and obtain confirmation they comply with it.
The standard also includes guidance on maintenance of trampoline parks and some useful operational guidelines and we strongly recommend you purchase a copy to assist with your planning. The document is copyrighted so we cannot make it available here, but you can easily buy a PDF copy from us.
For any questions more, pls contact us freely